---
COMPARE US: Over FIFTY Ways We FAR EXCEED the Service of "The Other Guys".

Pet stain and odor removal does work on upholstery. Fiber Guard to keep furniture looking new.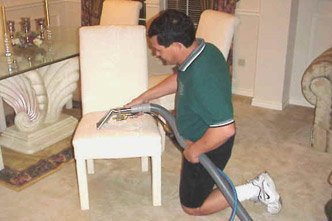 You see two carpet cleaning vans pull up outside your house... they both look the same; they both have truck mounted carpet cleaning units ... but that is where the simlarities end! Read on to find out just SOME of the differences between us and "The Other Guys".
We Really ARE Different:

Yes, we really are different. Here is a list of over FIFTY differences between us and the other guys.
Truck-Mounted Carpet Cleaning. We use a high-powered truck-mounted carpet cleaning unit. Unless your home is innaccessible by a truck mount, DO NOT let someone clean your carpets with a portable.
Pre-Spray. We prespray the entire carpet, NOT just the heavily soiled area. This allows us to RINSE the carpet afterwards. (See below.)
We RINSE the carpet. We run a rinse through our cleaning wand rinsing out the cleaning solution in your carpet. This aids in preventing a sticky residue which would cause rapid resoiling.
We carry a SCRUBBER. No one else carries a scrubber. The scrubber will help to restore worn and crushed down carpets - often rejuvinating carpets slated for be torn out and replaced.
ENZYME built in. We exclusively use an enzyme based cleaning solution. Enzymes help break down protiens such as milk and egg products, as well as other types of body fluids. INCLUDED AT NO EXTRA CHARGE!
DEODOURIZER built in. A deodourizer is built in to our cleaning solution. INCLUDED AT NO EXTRA CHARGE!
EXPERIENCE. Between our two technicians we have over 50 years experience.
LEGACY. Almost 35 YEARS in business.
DEODOURIZER built in. A deodourizer is built in to our cleaning solution. INCLUDED AT NO EXTRA CHARGE!
Professional Referrals. We are proud to be recommended by three local carpet & flooring retailers!
50% OVERLAP technique. We overlap our wand strokes 50% where other companies only overlap their last stroke by about half to 1". By overlapping 50% we're cleaning every fibre FOUR TIMES! (See below.)
Every fibre gets rinsed FOUR TIMES. Every fibre gets rinsed four times, doing more than double the cleaning the other guys do. Our goal is to get to the BOTTOM of every fibre; drawing out the grit which rapidly wears out carpets.
DEODOURIZER built in. A deodourizer is built in to our cleaning solution. INCLUDED AT NO EXTRA CHARGE!
HIGH-PRESSURE water injection. We use 600 PSI of pressure to clean to the bottom of every fibre. This is 3 - 4 times the water pressure of other companies!
TIME. We take the time to clean the carpet properly, going slower to clean the carpet more thoroughly. A whole house should take more than the 45 minutes it takes the other guys!
Truck Mounted PTO. Our machine is driven directly off the truck's 8 cylinder 350 cubic inch engine, giving the greatest power and heat (See more about heat below.) to provide the best possible cleaning .
HIGH-HEAT. We use higher heat for greater emulsification - getting your carpet cleaner!
Stock greatest number of SPOT REMOVERS. We're not a chemist's lab; but we can understand if you thought we were! No one carries more spotters on board!
STAIN Treatment. Able to identify and treat hundreds, or even thousands of different stains!
CERTIFICATIONS. Multi-discipline certification: carpet cleaning certification, upholstery cleaning certification, flood treatment certification.
GUARANTEE. Not only do we promise to come back if there is ANY sort of short coming in the cleaning of your carpet; but we also offer a 30 DAY NEW SPOT GUARANTEE!
Lowest CALL BACK RATE. We take the utmost care to do a thorough job THE FIRST TIME. You won't have to waste your time for a call back appointment from poor workmanship!
CORNER GUARDS. We protect your walls from our abrasive hoses with specially made corner guards!
PROFESSIONAL Appearance. Tattoos? Missing Teeth? Dirty, ragged clothes with pictures of "Megadeath"? Not with us! Clean-cut tecnicians that even your grandmother will feel comfortable with in your home!
DETAILED Cleaning. Corner, under the bed, we even remove floor vents!
No HIGH PRESSURE Sales. You don't want ScotchGuard? No problem! We won't bug you about it.
Waste Water Disposal. We don't charge a waste water dumping fee!
LEGACY. Almost 35 YEARS in business.
FREE Furniture Moving. We will move some items, such as couches, armchairs and your kitchen table free of charge.
FREE Furniture Pads. Furniture legs can leave stains on wet carpets. We provide you with pads under your furniture legs FREE of charge!
Carpet GROOMING. Carpet pile is still not standing up after cleaning? We will rake it for you - free of charge!
High-Power PORTABLE. The pump in our portable can put out up to 500 PSI. The other guys can only muster about 200 PSI.
STAIR Tool. Specialized tool specifically designed for cleaning your stairs; concentrates the cleaning and flushing directly on the stair. Our tool is also perfect for cleaning the front edge (lip) of the stair!
Stair RISERS. Why only have the flat of the step cleaned? We clean the risers, too!
LOCALLY Owned & Operated Want to support local business? We are locally owned, and live and do business within your community!
HOME Based. Family owned and operated! Father/Son operation!
PRICING. Straightfoward and HONEST pricing. We won't quote a low price on the phone, and then add a bunch of extra hidden costs.
FOLLOW-UP call. We will call you within a few days to ensure you are THRILLED with our service. If there are any problems, please: LET US KNOW! If you love the job LET EVERYONE ELSE KNOW!
Helpful Pre-Cleaning TIPS. When you book with us we will send you an email giving you the information you need to make the most of our visit.
LEGACY. Almost 35 YEARS in business.
NEW Carpet Buying ADVICE. Considering NEW CARPET? Call us! We'll help guide you to reputuable carpet suppliers, and more importantly, information on which carpet will give you the best value and quality.
REMINDER Notices. We care about your carpet as much as you do! We will send you a reminder each year letting you know that, for the health of you and your carpet, it is time to have your carpets cleaned again.
COFFEE Stains. We can get out most COFFEE stains. Just let us know where they are, and we'll do what we can with them!
WINE Stains. Yep! We can get nearly all wine stains out - NO PROBLEM!!
Carpet PROTECTOR. Only the HIGHEST QUALITY carpet protector. THE actual ScotchGuard. DO NOT settle for less.
Water Jet SIZE. We use larger water jet tips on our wands, this puts MUCH more water into the carpet flushing out dirt better than any other carpet cleaner in town!
We CARE. We really do CARE about you and your carpet. Being this is our livelihood and not just a job for us, we are committed to giving you the absolute best cleaning job in the industry.
LITTLE Touches. Not only are we concerned about the big picture, we also care about the little things. We'll even spray down all that accumulated dust on your base-boards.
Wood Floor CARE. Have a wood floor? We bring a runner to lay down protecting your expensive floor from scratches and other possible damage from our hoses and other equipment.
Want MORE?. You'll just have to try us for yourself and find out what else we have to offer!

We can also steam
Car Upholstery
Boat Upholstery
Air Craft Upholstery
Our cleaning solutions are biodegradable and smell fresh.
Certified and Best Quality on Upholstery Furniture Cleaning in Maple Ridge & Port Coquitlam, BC
Rug and Furniture Cleaning Maple Ridge, Pitt Meadows, and Port Coquitlam, B.C.
Ridge Meadows Carpet Care and Tri-City Carpet Care is conveniently located in the Maple Ridge area so if you are looking for Coquitlam Rug Cleaning, Port Moody Furniture Cleaning, Pitt Meadows Rug and Furniture Cleaning or rug cleaning across the Fraser Valley area you've come to the right place. We provide our residential and commercial rug and furniture cleaning services to the following cities locally:

Aldergrove, Anmore, Belcarra, Boundary Bay, Bowen Island, Burnaby, Chilliwack, City of Langley, Coquitlam, Delta, Fraser Valley Regional District, Greater Vancouver, Hammond, Haney, Langley, Lions Bay, Lower Mainland, Maple Ridge, Matsqui, Mission, New Westminster, North Delta, North Vancouver, Pitt Meadows, Port Coquitlam, Port Moody, Richmond, Ruskin, Silver Valley, Silverdale, South Delta, Surrey, Township of Langley, West Vancouver, White Rock, Whonnock, BC, British Columbia
---