---
How to Choose a Reputable Carpet Cleaning Company

Pet stain and odor removal does work on upholstery. Fiber Guard to keep furniture looking new.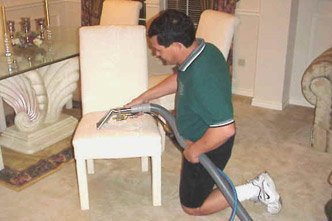 There are, unfortunately, many companies out there who care much more about taking your money, maximizing their profits, upselling you on things you don't need, and then getting in and out of your home as quickly as possible. There are few companies who really do care about ensuring you get the best job possible. We help you determine the difference between the good and the bad. To that end we offer the following tips, and then a list of questions to ask when you call a cleaning company:
Choosing the Right Carpet Cleaner:
Firstly, make sure you choose a company that uses a truck-mounted, high-heat, jet-extraction system. There is no better base system than a truck-mount. Portables are a last resort - used only if a unit is above the 4th floor of a building, or out of reach of a truck mount. We can make your carpet smell like oranges, too, if you want - but that alone is not going to ensure you a deep cleaning.
Secondly, find out what cleaning method they will use. Will they pre-spray and rinse, or will they simply run the solution through the wand? There are many advantages to a pre-spray and rinse system. DO NOT choose any method where a rinse procedure is not used!
Overlap. As part of the method, the amount of overlap is a critical factor in the thoroughness of the cleaning. Most companies overlap no more than 10%. We overlap 50% - rinsing your carpet FOUR TIMES! No one else cleans your carpet as deeply or thorougly.
The base cleaning solution should incorporate enzyme. If not, you're not getting the carpet as clean, or healthy. The same is true of the deodourizer and sanitizer.
Hidden Costs. Many companies will quote a low price on the phone; then, when they are in your home. add on many extra charges such as: waste water or environmental fees; fuel surcharges; spot removal; moving of furniture; pads and stryofoam blocks for under the furniture; charging for enzyme or deodourizer; and many other hidden charges.
Time. We have seen companies clean a living room, dining room, hall, and two bedrooms in under 25 minutes. You are getting a WET carpet, not a CLEAN carpet when a company 'cleans' that quickly. That amount of carpet would take us well over an hour to do, and maybe even an hour and a half. We take the time to do the job right!

Questions to Ask BEFORE You Hire a Carpet Cleaning Company:
Will they use a truck mount? Unless you're home is inaccessible by a truck mount, DO NOT let a company use a portable. There are also many other methods out there, but none compare to truck mounted equipment.
Will the owner of the company be on the job? The owner of Ridge Meadows Carpet Care is ALWAYS on the job!
Will they pre-spray the carpet and use a rinse procedure, or will they run the cleaning solution through the wand? We ALWAYS use a rinse procedure, often including a neutralizer!
Does their cleaning solution use an enzyme? We exclusively use an enzyme based cleaning solution.
Does their cleaning solution use a deodorizer or sanitizer? Is there an additional cost for it? A mild deodourizer and sanitizer is built in to our system at NO EXTRA COST!
How long will it take to clean the carpet? If they take less than an hour for every 400 - 500 sq. ft. they're likely going too fast!
How long will it take for the carpets to dry? If you're told it takes less than 2 or 3 hours for the carpet to dry, it means that not enough water is being used to thoroughly flush to the bottom of the fibre. Think about it...even a well wrung out wet shirt won't dry in 2 hours hanging in your house! How could a carpet dry in such little time?
Will the company do a follow up call or offer any sort of guarantee? We like to call you a few days after we've cleaned your carpet to ensure you're THRILLED with our service. If there are any problems we will come back NO QUESTIONS ASKED!
Can they get coffee, wine, fruit, or pasta sauce stains out? We can get ALL of those types of stains out well over 90% of the time!
Can they rejuvenate a flattened carpet? Do they use a scrubber? We carry a heavy duty scrubber machine to help separate and stand up crushed, matted fibres while scrubbing the cleaning solution to the BOTTOM OF THE FIBRE. NO ONE ELSE CARRIES A SCRUBBER!

These above questions are MUCH more important than asking what their price is. Why pay just a little bit less for FAR INFERIOR work? However, the price you're quoted on the phone rarely matches with what you are charged when the job is done! Why support dishonest businesses? To help you find out what your true cost is going to be ask the following questions:

Do they charge by the room or by the square foot? We charge by the square foot; with only a few exceptions - stairs, landings, and pet stains, for example.
If they charge by the room, is there a size limit for the rooms? This is a VERY IMPORTANT question to ask! You may be shocked to find out that your room exceeds their size limit, and then they charge for TWO rooms.
Do they charge for moving furniture or for using pads under the furniture to protect the carpet? We will move your couch, loveseat, recliners and dining room tables at no charge and provide pads at not cost if necessary.
Do they charge for enzyme, deodourizers, sanitizers, spotters, neutralizers, etc.? We do not charge for most spotting, however there may be additional charges for pet stains or if you are one of the very few that have an excessive number of spots.
Do they charge for heavily soiled carpet? While we should charge extra for the use of the scrubber we DO NOT charge extra for it, or for heavily soiled carpet!
Are there extra charges for dumping the waste water or other environmental fees? We DO NOT charge for waste water disposal or any other such hidden fees.
Is there a fuel surcharge? We DO NOT charge a fuel surcharge! We may, however, charge a nominal fee for any applicable tolls.
What other additional fees will apply? We sincerely endeavour to quote you an accurate price on the phone, and avoid having any additional charges. Only if your carpet is inordinately bad will you see any additional charges.
What about carpet protector? Carpet protector, often known by the name Scotch Guard, is designed to protect your carpet from stains. In reality it prevents some stains from becoming permanent, and allows us to have more success in the removal of SOME stains; in practice, it should be considered something that gives you a little more time to get to the spill BEFORE it sets. Carpet protector is a favourite upsell for cleaning companies. There is a higher margin on it than the cleaning and they will do whatever they can to convince you to purchase it. While we may remind you to consider it, we by no means try pressure you into purchasing it. We simply don't need to. While carpet protector may be right for some, it may not be necessary for others.
Finally, you need to ask yourself a few questions:
Can you really afford the cheap guys? A good carpet cleaning will actually extend the life of your carpet and even possibly rejuvinate a bad or old one. An improperly cleaned carpet will resoil much more quickly - necessitating more frequent cleaning. We can often save carpets that may otherwise need replacing - saving you thousands of dollars $$$$.
Are you willing to assume the risk of paying TWICE? There have been COUNTLESS times we have gone into a home within a few days or a week or two after a "Low Cost" company has to correct their mistakes. This results in you paying more than DOUBLE the low-price guys.
Are you willing to risk your carpets and upholstery? We have seen carpets and upholstery ruined by improper cleaning and un-trained personell.

Our cleaning solutions are biodegradable and smell fresh.

Certified and Best Quality on Upholstery Furniture Cleaning in Maple Ridge & Port Coquitlam, BC

 

Rug and Furniture Cleaning Maple Ridge, Pitt Meadows, and Port Coquitlam, B.C.

Ridge Meadows Carpet Care and Tri-City Carpet Care is conveniently located in the Maple Ridge area so if you are looking for Coquitlam Rug Cleaning, Port Moody Furniture Cleaning, Pitt Meadows Rug and Furniture Cleaning or rug cleaning across the Fraser Valley area you've come to the right place. We provide our residential and commercial rug and furniture cleaning services to the following cities locally:

Aldergrove, Anmore, Belcarra, Boundary Bay, Bowen Island, Burnaby, Chilliwack, City of Langley, Coquitlam, Delta, Fraser Valley Regional District, Greater Vancouver, Hammond, Haney, Langley, Lions Bay, Lower Mainland, Maple Ridge, Matsqui, Mission, New Westminster, North Delta, North Vancouver, Pitt Meadows, Port Coquitlam, Port Moody, Richmond, Ruskin, Silver Valley, Silverdale, South Delta, Surrey, Township of Langley, West Vancouver, White Rock, Whonnock, BC, British Columbia
---